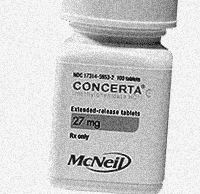 Many think Concerta is safe, or mild, because so many children use it. However, the government classifies the psychoactive drug with cocaine and morphine because it is highly addictive.
Concerta Side Effects and Warnings
Brand Name: CONCERTA
Generic Name: methylphenidate hydrochloride (HCI)
Category: CEREBRAL STIMULANTS
Concerta (methylphenidate) is an amphetamine-like prescription stimulant commonly used to treat Attention Deficit Hyperactivity Disorder (ADHD) in children and adults.

FDA "Black Box" Warning Label
The Food and Drug Administration (FDA) requires the following "black box" warning on all methylphenidate drugs, which means that medical studies indicate methylphenidate drugs carry a significant risk of serious, or even life-threatening, adverse effects.
WARNING
CONCERTA IS A FEDERALLY CONTROLLED SUBSTANCE (CII) BECAUSE IT CAN BE ABUSED OR LEAD TO DEPENDENCE. KEEP CONCERTA IN A SAFE PLACE TO PREVENT MISUSE AND ABUSE. SELLING OR GIVING AWAY CONCERTA MAY HARM OTHERS, AND IS AGAINST THE LAW.
TELL YOUR DOCTOR IF YOU OR YOUR CHILD HAVE (OR HAVE A FAMILY HISTORY OF) EVER ABUSED OR BEEN DEPENDENT ON ALCOHOL, PRESCRIPTION MEDICINES OR STREET DRUGS.
Used For
Attention deficit disorder
Narcolepsy
How Concerta Works
We don't know exactly why it produces the effects it does. Methylphenidate was first synthesized in 1944 in an (unsuccessful) attempt to create a stimulant that would not induce addiction or tolerance. Methylphenidate (Concerta) is very closely related to amphetamine: similar in chemical structure, metabolization and clinical effects. This close connection is the chief reason methylphenidate drug use raises concern among patients and others.
U.S. DEPT. OF JUSTICE: "Of particular concern is that ADHD literature prepared for public consumption does not address the potential or actual abuse of methylphenidate. Instead, methylphenidate is routinely portrayed as a benign, mild substance that is not associated with abuse or serious side effects. In reality, however, the scientific literature indicates that methylphenidate (Concerta) shares the same abuse potential as other Schedule II stimulants. Further, case reports document that methylphenidate abuse can lead to tolerance and severe psychological dependence."
"Physiological effects of oral cocaine and methylphenidate were similar."
Do Not Use If
You have high blood pressure or any form of heart disease, are very nervous or have severe insomnia, have a history of addiction to drugs or alcohol. Do not combine with monoamine oxidase inhibitors.
Common Side Effects
Addiction
Nervousness including agitation, anxiety and irritability
Trouble sleeping (insomnia)
Decreased appetite
Headache
Stomach ache
Nausea
Dizziness
Heart palpitations
Other Serious Side Effects Include
Slowing of growth (height and weight) in children
Seizures, mainly in patients with a history of seizures
Eyesight changes or blurred vision
Less Common Side Effects
High blood pressure
Rapid pulse rate (and other heart problems)
Tolerance (constant need to raise the dose)
Feelings of suspicion and paranoia
Visual hallucinations (seeing things that are not there)
Depression
Cocaine craving
Dermatoses (infected or diseased skin)
Urinary tract infection
Infection or viral infection
Elevated ALT enzyme levels in the blood (signaling liver damage)
FDA Warning: Links Between ADHD Drugs and Priapism and Sexual Dysfunction
In a recent drug-safety announcement, the FDA announced that drugs containing methylphenidate must including warnings about the risk of priapism. (Methylphenidate drugs include: Concerta, Daytrana, Focalin, Metadate, Methylin, Quillivant, and Ritalin.) It's a serious problem: priapism is a persistent, usually painful, erection that lasts for more than four hours and occurs without sexual stimulation. If the condition is not treated immediately, it can lead to scarring and permanent erectile dysfunction.
The FDA included an even stronger warning about atomoxetine (Strattera): "Priapism appears to be more common in patients taking atomoxetine than in patients taking methylphenidate products. Health care professionals should be cautious when considering changing patients from methylphenidate to atomoxetine."
The safety warning also raised concerns about links between priapism and amphetamine drugs, which include Adderall, Dexedrine, ProCentra and Vyvanse.
Overdose Side Effects
Methylphenidate drugs have been extensively abused. Extreme psychological dependence and severe social disability have resulted. Abuse of methylphenidate drugs may cause a sudden heart attack even in those with no signs of heart disease. Symptoms of overdose that require immediate medical assistance include:
Restlessness
Tremor
Aggression
Hallucinations
Panic states
Hyperreflexia (overactive reflexes, which can include twitching or spasms)
Personality changes
Symptoms of depression
Seizures or abnormal EEGs
High blood pressure
Rapid heart beat
Swelling of hands/feet/ankles (for example, numbing of the fingertips)
Delusions
Sweating
Vomiting
Dehydration
Unexplained muscle pain
Lower abdominal pain
Rhabdomyolysis and kidney damage
Chronic abuse can manifest itself as psychosis, often indistinguishable from schizophrenia
What to Do About Side Effects
The last dose of the drug every day should be taken several hours before bedtime to prevent insomnia.
Nervousness usually goes away and appetite often returns so that weight loss is rarely dangerous.
If high blood pressure, rapid pulse, paranoia, or tolerance becomes a problem, the drug is usually stopped.
Nothing can be done about the addiction except to remember not to stop taking any version of methylphenidate abruptly.
Concerta is a Schedule II Substance, which means it has a "high potential for abuse" that "may lead to severe psychological or physical dependence," and the federal government sets limits on the amount of that may be manufactured each year.
Dependence, Tolerance and Withdrawal
It is possible to build up a tolerance to Concerta, which means the person using the drug needs to take larger doses to achieve the same effect. Over time, the body might come to depend on methylphenidate drugs just to function normally. The person craves the drug and their psychological dependence makes them panic if access is denied, even temporarily.
Withdrawal symptoms can include tiredness, panic attacks, crankiness, extreme hunger, depression and nightmares. Some people experience a pattern of "binge crash" characterized by using continuously for several days without sleep, followed by a period of heavy sleeping.
If It Doesn't Work
The drug should be stopped gradually. Withdrawal symptoms are psychological and stopping suddenly can cause extreme fatigue and severe, even suicidal, depression in adult patients.
Abrupt cessation of stimulant drugs such as Concerta can cause extreme fatigue and severe, even suicidal, depression in adult patients.
If It Does Work
"Also, in addition to increasing heart rate and blood pressure, causing insomnia and weight loss, and sometimes causing psychotic symptoms, the stimulant medications used for ADHD (methylphenidate and amphetamines) may cause heart disease if taken for a long time. The latter problem led to a debate within the FDA, well covered by newspapers, about whether to issue a special warning to doctors. In the end, the FDA decided not to do this, but the risk remains," reports Jack M. Gorman, M.D., professor of psychiatry at Columbia University and deputy director of the New York State Psychiatric Institute.