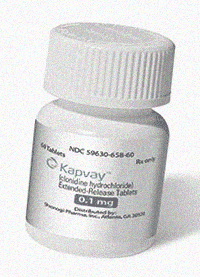 "Clonidine can cause severe depression and is particularly dangerous for anyone with a history of depression." (4)
Clonidine Side Effects and Warnings
Brand Names: KAPVAY, JENLOGA (extended-release tablets); CATAPRES, DIXARIT (tablets); CATAPRES-TTS (transdermal patch)
Generic Names: clonidine hydrochloride, clonidine
Categories: CENTRAL ALPHA-2 AGONIST
and ANTI-HYPERTENSIVE
How Clonidine Works
Clonidine reduces blood flow in the brain and produces dose-related sedation. (5) The drug lowers blood pressure and heart rate, thereby supressing the body's "fight or flight response" by decreasing that activity of part of the brain known as vasomotor center. Users of clonidine experience typical drowsiness. (1,2)
Used For
High blood pressure
Attention deficit disorder
Narcotic withdrawal syndrome (off-label)
Do Not Use If
You have a history of depression. Clonidine can cause severe depression and is particularly dangerous for anyone with a history of depression.

(4)

You have heart disease, unless your doctor tells you it is okay.

(6)

You have a problem in your heart that impacts the timing of the heartbeat or transmission of electrical impulses through the heart.

(3)

You previously had an allergic reaction to clonidine.

(3)
DO NOT SKIP A DOSE OR STOP SUDDENLY
Serious Risks Include ACUTE WITHDRAWAL SYMPTOMS (rebound hypertension) with abrupt discontinuation.
Severe cases can result in a very large increase in blood pressure which requires prompt treatment to avoid complications such as organ damage.
Let Your Doctor Know Before Taking This Drug If
you have or have had serious emotional depression
you are taking any antidepressant
you are taking a tricyclic antidepressant
you are taking any sedative
you are taking any hypnotic drugs
you have a circulatory disorder of the brain
you have angina or coronary heart disease
you have a very slow heart rate
you have Buerger's disease (hands or feet may be pale, red, or bluish and may feel cold; caused by inflammation of blood vessels)
you have Raynaud's phenomenon (cold temperatures or strong emotions cause blood vessel spasms that block blood flow to the fingers, toes, ears, and nose)
you plan to have surgery under general anesthesia in the near future
Common (Expected) Side Effects
Lowering of blood pressure (expected)
Lowering of heart rate (expected)
Drowsiness and Sedation (sleepiness) (33-35%)
Dry Nose and Mouth (40%)
Headache (19-29%)
Constipation (10%)
Upper Abdominal Pain (13-20%)
Fatigue (13-16%)
Dizziness (16%)
Irritability
Change in mood
Trouble sleeping (insomnia)
Light-headedness (caused by lowering of blood pressure)
Sore throat
Dry eyes (in patients who wear contact lenses)
Possible Adverse Effects
If any of the following develop, consult your physician promptly for guidance.
Mild Adverse Effects
Allergic Reactions: Skin rash, hives, localized swellings, itching
Headache, dizziness, fatigue, anxiety, nervousness, dryness and burning eyes
Painful parotid (salivary) gland, nausea, vomiting
Weight gain, urinary retention
Dry mouth
Urination at night
Thinning of hair (rare)
Serious Adverse Effects
Raynaud's phenomenon (cold temperatures or strong emotions cause blood vessel spasms that block blood flow to the fingers, toes, ears, and nose)
Aggravation of congestive heart failur, heart rhythm disorders, vivid dreaming, nightmares, depression, hallucinations
Sleep disorders
Corneal ulcers (rare)
Acute pancreatitis (rare)
Slow heart beat (bradycardia)
Possible Effects On Sexual Functions
Decreased libido (10%)
Impotence (8-24%)
Impaired Ejaculation (rare)
Enlargement of male breasts
Precocious puberty in females (puberty at an early age)
CAUTION
Do not stop this drug suddenly! Sudden withdrawal can cause a severe and possibly fatal reaction.
Hot weather or fever can reduce blood pressure significantly. Dose adjustments may be necessary.
Report the development of any tendency to emotional depression.
"The main problem with clonidine is that missing one or two doses can have serious effects, including sweating, tremor, flushing, and severe high blood pressure."
Overdose Side Effects
Marked drowsiness
Weakness
Dry mouth
Slow pulse
Low blood pressure
Vomiting
Stupor progressing to coma
A review of 20-years of scientific literature on using stimulant medications, including methylphenidate drugs, to treat children with ADD and ADHD found a consensus: there is no documented long-term benefit (academic achievement or pro-social behavior) in using psychoactive drugs.