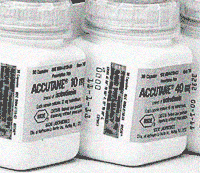 Accutane has a long history of controversy over birth defects, depression and suicide, and other serious medical problems.
Accutane Side Effects and Warnings
Generic name:

Isotretinoin

Brand names:

Accutane, Amnesteem, Claravis, Decutan, Isotane, Sotret, Oratane, Roaccutane
Common Reactions to Accutane
Pain and swelling of the lips
Severe itching
Alopecia (hair-thinning/hair-loss/baldness)
Fragile and weaker skin
Vision problems
Decreased night vision (onset may be sudden)
Conjunctivitis (pink eye)
Contact lens intolerance
Dry mucous membranes (dry nose, lungs, bladder, anus)
Peeling skin on palms/soles
Nail changes
Nosebleeds
Photosensitivity (sensitivity to light)
Elevated triglycerides in the blood
Elevated liver enzymes (indicating liver damage)
Tinnitus (ringing in ears or buzzing in ears)
Joint pain and muscle pain
Back pain
Depression
Serious Reactions to Accutane
Depression
Erectile dysfunction (difficulty in maintaining erection)
Violent behavior/aggression
Psychosis (seeing or hearing things that are not real)
Suicidal ideation (rare)
Suicide attempts
Hearing impairment
Pseudotumor cerebri (swelling pressure in the brain)
Osteopenia/osteoporosis (loss in bone mass and strength/weak and fragile bones)
Hepatotoxicity (liver damage)
Anaphylaxis (rapid and deadly allergic reaction)
Allergic vasculitis (inflammation and damage to blood vessels)
Major birth defects
Cataracts/corneal opacities (can cause a decrease in vision and lead to eventual blindness)
Premature epiphyseal closure (short stature)
Neutropenia (low white blood cell count, which makes the body vulnerable to bacterial and fungal infections)
Agranulocytosis (a serious condition in which white blood cells decrease in number or disappear altogether) (rare)
Rhabdomyolysis (potentially fatal disease that destroys skeletal muscle) (rare)
Inflammatory bowel disease (inflammation of the intestine and resulting in abdominal cramping and persistent diarrhea)
Pancreatitis (inflammation of the pancreas, an organ important in digestion)
Vascular thrombosis (heart attack)
Stroke
Seizures
Accutane (isotretinoin) is Used for
A two-year U.S. congressional investigation found that many dermatologists have effectively widened the scope of Accutane use to include even mild acne despite the fact that the drug is approved for only the most severe, scar-forming and disfiguring nodular acne, which is untreatable by other means. The government found that 90 percent of women and nearly half the teens who received Accutane suffered only mild cases of acne. Therein lies the controversy surrounding this high-risk drug.
The Power of Accutane: Benefits and Risks
Accutane is a very powerful drug that certainly works miracles to clear up acne in a matter of months. One course, which is typically five months, results in prolonged remission of acne in up to 85 percent of patients. "But as powerful as Accutane can be in improving patients' lives, the adverse effects can be just as powerful," states FDA Consumer magazine. "The drug is known to cause miscarriage and severe birth defects. Patients taking Accutane may develop potentially serious problems affecting a number of organs, including the liver, intestines, eyes, ears, and skeletal system. And some patients taking Accutane have developed serious psychiatric problems."
Many former Accutane users say their hair, eyebrows, or eyelashes have fallen out months, or even years, after stopping the drug. Some claim their hair loss is permanent.
Why does Accutane hair-loss happen? Accutane impacts the oil-gland function of the skin (including the scalp) and causes changes in cells that provide structure to hair and skin, all of which leads to hair and skin dryness and fragility, which can cause hair-thinning, hair-loss, and even baldness.
Current and former Accutane users attribute aches and joint pains to the acne drug. A 37-year-old nurse with cystic acne claims Accutane caused her to develop permanent, severe low-back pain, severe joint pain and thinning hair. She writes: "Now, almost 7 years later, I suffer from severe back and generalized joint pain to the point I can no longer work full-time. Before Accutane, I was a healthy, active young woman. It definitely ages you prematurely. If you haven't had these awful symptoms, count yourself blessed."
Experts agree that alternatives without serious side effects should be tried first.
How Accutane Works
Accutane inhibits the body's cell growth and reproduction, and oil-gland function.
Accutane also depletes the body's water-holding molecules, which bind, lubricate and protect tissue in the skin, scalp, eyes and joints.
Accutane (isotretinoin) is the first drug in the history of medicine for which a woman has to sign a consent to read the warnings.
FDA "Black Box" Warning
The Food and Drug Administration (FDA) requires the following "black box" warning on isotretinoin, including Accutane, Amnesteem, Claravis, and Sotret, which means that medical studies indicate these drugs carry a significant risk of serious, or even life-threatening, adverse effects.
CONTRAINDICATIONS AND WARNINGS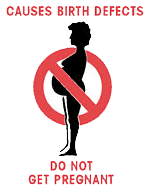 Accutane must not be used by female patients who are or may become pregnant. There is an extremely high risk that severe birth defects will result if pregnancy occurs while taking Accutane in any amount, even for short periods of time. Potentially any fetus exposed during pregnancy can be affected. There are no accurate means of determining whether an exposed fetus has been affected.
Birth defects which have been documented following Accutane exposure include abnormalities of the face, eyes, ears, skull, central nervous system, cardiovascular system, and thymus and parathyroid glands. Cases of IQ scores less than 85 with or without other abnormalities have been reported. There is an increased risk of spontaneous abortion, and premature births have been reported.
Documented external abnormalities include: skull abnormality; ear abnormalities (including anotia, micropinna, small or absent external auditory canals); eye abnormalities (including microphthalmia); facial dysmorphia; cleft palate. Documented internal abnormalities include: CNS abnormalities (including cerebral abnormalities, cerebellar malformation, hydrocephalus, microcephaly, cranial nerve deficit); cardiovascular abnormalities; thymus gland abnormality; parathyroid hormone deficiency. In some cases death has occurred with certain of the abnormalities previously noted.
If pregnancy does occur during treatment of a female patient who is taking Accutane, Accutane must be discontinued immediately and she should be referred to an Obstetrician-Gynecologist experienced in reproductive toxicity for further evaluation and counseling.
Special Prescribing Requirements
Because of Accutane's teratogenicity and to minimize fetal exposure, Accutane is approved for marketing only under a special restricted distribution program approved by the Food and Drug Administration. This program is called iPLEDGE. Accutane must only be prescribed by prescribers who are registered and activated with the iPLEDGE program. Accutane must only be dispensed by a pharmacy registered and activated with iPLEDGE, and must only be dispensed to patients who are registered and meet all the requirements of iPLEDGE.
Dosage Forms of Accutane (Isotretinoin)
EACH CAPSULE (Active Ingredient: Isotretinoin)
Accutane
10 mg
20 mg
40 mg
contains soybean oil and parabens*
Amnesteem
10 mg
20 mg
40 mg
contains soybean oil
Claravis
10 mg
20 mg
40 mg
contains soybean oil
Sotret
10 mg
20 mg
40 mg
contains soybean oil and parabens*
*Accutane contains parabens, which are chemical preservatives known to display estrogenic activity and mimic the body's hormones. These chemical-disruptors may interfere with the body-s endocrine system: the adrenal glands, the pituitary gland, the hypothalamus (in the brain), the thyroid, the ovaries and testes, the pancreas (which secretes insulin and regulates the level of glucose in the blood), the stomach, the kidneys, the skin and virtually every body system.
A blinded, randomized study was conducted to determine whether vitamin E would reduce the toxicity and side effects of Accutane and the results showed that vitamin E does not.