DEA Data Shows Explosive Rise in Childhood ADHD and Medication Use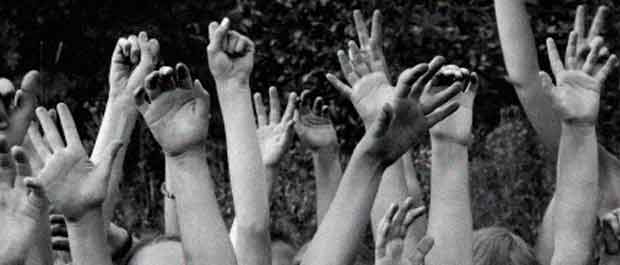 Wakila
The number of kids taking psychotropic medication has exploded in recent years, according to the Drug Enforcement Administration.
The production of methylphenidate (Concerta, Focalin, Metadate, and Ritalin) and legal amphetamines (Adderall, Desoxyn, Dexedrine, Dextrostat, ProCentra, Vyvanse) have exploded in the United States since 1990.
Amphetamines and methylphenidate are essentially the same pharmacologically, both are considered having "strong potential for abuse," and therefore classified as Schedule II drugs under the Controlled Substances Act. Production levels in the United States are regulated by the Drug Enforcement Administration (DEA), which sets quotas (or limits) on the amount that may be manufactured each year, in an effort to control illegal uses. The dramatically rising production quotas shown below mirror the unprecedented high demand for prescriptions in the United States.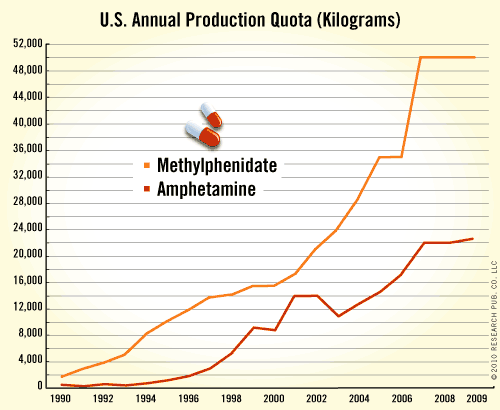 Skyrocketing Abuse of Prescription Meds
Prescription drug abuse is now the nation's fastest-growing drug problem, according to the director of the White House Office of Drug Control Policy.
A 400 percent increase in substance-abuse was found in children and adults (ages 12 and up) during the ten-year period of 1998 to 2008, according to the same government study. The rise in illicit use of pharmaceuticals spans every gender, race, ethnicity, education and employment level, and all regions of the country.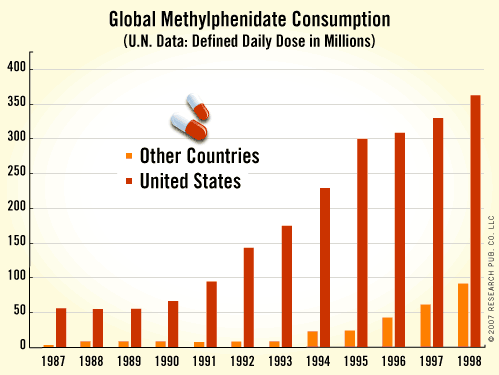 The United States produces and consumes eighty-five percent of the world's methylphenidate, according to the United Nations' International Narcotics Control Board.